Take a Journey of Self-Discovery and Find the Perfect Storm Door for Your Home!
There are many important factors to consider when purchasing a new storm door for your home. If you're asking yourself, "Which Storm Door Should I Buy?" you're in the right spot! Be sure to consider all of your options!
A journey through our "Choose Your Storm Door" Infographic will help you discover the perfect door that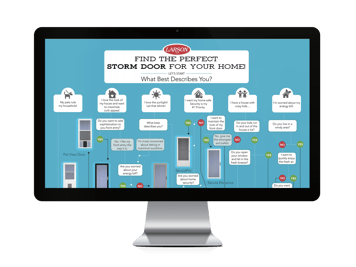 meets your lifestyle.
Are you torn between adding a screen door or a steel security door to your home?
Proud of your entry? Find the right door to show it off!
Do you indulge in the height of beauty and sophistication?
Constantly finding yourself running in and out of the house with your kids or bags of groceries in your hands?
Download your free "Is This Door For Me?" infographic to find out about all your options available with Larson Storm Doors.
Fun, Free Infographic Download!