This Contest has ended.

SHOW US YOUR

A-DOOR-ABLE
DOG!
Because you share your heart and your home with your dog, invite him to expand his independence and enjoy the ease of entering and exiting your home with a LARSON® pet-friendly storm door with PetSafe® pet flap.
More than ever, pet parents are working from home or working longer-than-normal hours on the front lines. You've seen it all - interrupted conference calls, torn to pieces pillows, overturned garbage cans - anything to vie for our attention during our new normal.
Give your pet more independence and exercise, control your pet's access to certain areas, stop planning around potty breaks, clean up fewer accidents and stop your pet's scratching and whining at the door with innovative products from LARSON and PetSafe.
Simply, show us your A-Door-able Dog by your door for a chance to win a voucher for a pet friendly storm door from LARSON and $300 in PetSafe products.
Here's the scoop: Snap and upload a photo of your pet next to your door, like the examples below. Make sure to tell your friends, family, co-workers and the whole doggone universe to vote for your photo. The photo with the most votes will win the ultimate prize package.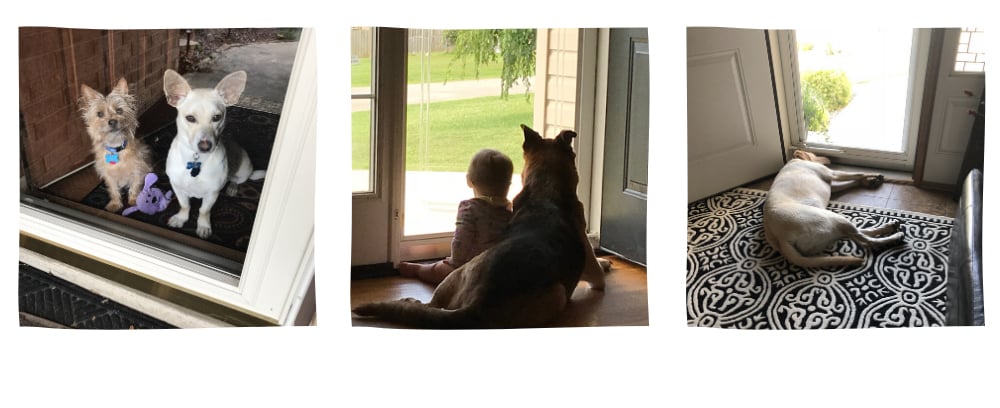 The photo with the most votes by October 16, 2020 will be crowned the most A-Door-Able Dog, receiving $300 in PetSafe® products of their choice and a $299 voucher for a LARSON® pet door storm door.
Make sure to check out our full line of pet doors! We have perfect options for Dachshunds to Great Danes.